Hello everyone,
Here is our first stop in our American journey. We found that Boston was a very nice city and very dog-friendly. We had just spent a few days in Canada, where dogs are "persona non grata". This makes us so good to find places where they are accepted.
Boston Common and Boston Public Garden
Opened in 1634, the Boston Common is the oldest public garden in the city of Boston and even in the United States. It represents a total of 20 hectares walk. Dogs on leash are allowed in the park all day. Well behaved dogs can even be walked around without a leash in the morning between 6:00 and 9 pm and from 4:00 p.m. to 8:00 p.m . This park seems to be the perfect place to relax with your four-legged friend.
The Boston Public Garden is a second park next door where the dogs are also allowed .
Boston Common
Conceived in 1951, the " Freedom Trail " will help you discover the history of the city, and the United States, through a beautiful ride? path . Following the red bricks of the sidewalk, you will discover the monuments related to the American Revolution such as the Boston Massacre Site, Faneuil Hall and the Old State House. The total length is about four kilometers but we have not done everything. I loved the fact that the buildings are accessible on foot as well as your dog can see everything with you . We are not returned in buildings.
I read on the website that dogs can followed guided tour of 90 minutes proposed by the Freedom Trail Foundation.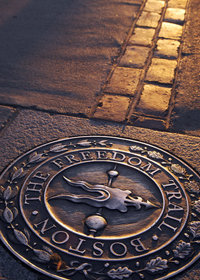 The freedom Trail
The Printing Office of Edes & Gill
We were able to get into what I call " small museum of the Press" called the Printing Office of Edes & Gill. I was ecstatic. It was certainly the highlight of our day. My excessive enthousiasm for this place is linked to the fact that I too work in a museum with presses. Since 2011, the team of volunteers makes the curious living a unique experience with the time of printing techniques Independence. I would like to say a very big congratulations. This is a wonderful way of "living history".
On the website the schedule is shown : Friday 10 am to 4 pm - Saturday 10 am to 4 pm - Sunday 10 am to 4 pm
Dogs are welcome .
We took a smoothie in this store. Without expecting that chiesn be accepted. But my eyes are drawn to a jar on the counter with a small paper stating " treats for dogs 50 cents." I then ask the seller if dogs are allowed (there 's no need to sit in the store, his drink just one can recover ). He said yes!

ADDRESS: 6A Cross Street Boston MA
CONTACT : 617.936.4010 or http://www.juicery.com/
OPENING HOURS : Mon-Fri : 7 am-8pm , Sat 8-8 , Sun 8-7
crédit photo :
Freedom trail : http://www.cityofboston.gov/freedomtrail/
Boston Common : https://commons.wikimedia.org/wiki/File:Boston_Common_(7208155154).jpg
The printing Office : http://bostongazette.org/
The Juicery : http://www.juicery.com/