We spent a few days in New York City this summer. Even if my dog Zadig was not there, I decided to look for dog-friendly places to visit. Here is a list of 10 ideas for fun things to do in New York City with your dog. I hope that you will find these ideas interesting.
Enjoy your time in New York!
1/ Buy a gift for your dog at Canine Style
Opened in 1959, Canine Styles is the oldest New York dog supply store. You will find everything your dog needs : leash, collar, toys, bowls, coats, travel bag and even a groomer in the back of the shop. We spent an hour at the shop, surrounded by amazing products, to choose a gift for Zadig .
WHERE? There are now three stores in New York City, that you can find here. Beware, the store 59 Greenwich Ave is closed.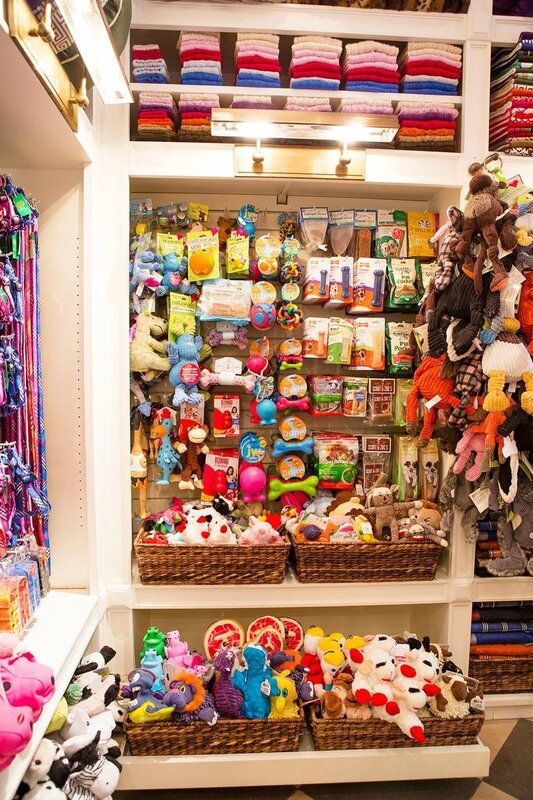 Look at all these toys !
2/ Take the Staten Island Ferry to see the Statue of Liberty
We had the pleasure to take the ferry to Staten Island. It's an experience that I would love to share with Zadig, and it's possible : dogs are allowed on board if they are muzzled. I've even read on the internet that the ferry staff may allow to remove the muzzle! You can explore Staten Island, or hop on the next ferry back to Manhattan. The ferry runs every half-hour, and more frequently during the morning and evening rushes and, yes, it's free!
WHERE? Manhattan4 Whitehall Street New York NY 10004
website |
The famous yellow ferry
3/ Offer a hotel night to your companion at One Hotel Central Park
After the Parisian luxury hotel, it's time to discover the American version. One Hotel Central Park is located just 50 yards from Central Park South. Perfect for pet owners like us! Dogs under 40 pounds are allowed at this hotel which even calls them "family member". For another type of animal, contact the hotel for more information.
Upon arrival, your dog will have everything to feel like home since the hotel offers :
- A welcome BarkBox
- The possibility of using a dog-friendly team of Concierge with information on the best NYC dog parks, pet stores, grooming salons and more!
- A sign "animal in the room" to tell the hotel staff that your dog is inside .
- Special dishes available from our kitchen, just ask !
- Beds and bowls to borrow.
I must warn you that your dog will have some high-level expectation at home after some time here ! Note that if your room is dirty, the cleaning fee of $100 will be added to the bill.
WHERE? 1414 Avenue of the Americas, New York, NY, 10019
CONTACT: 212-703-2001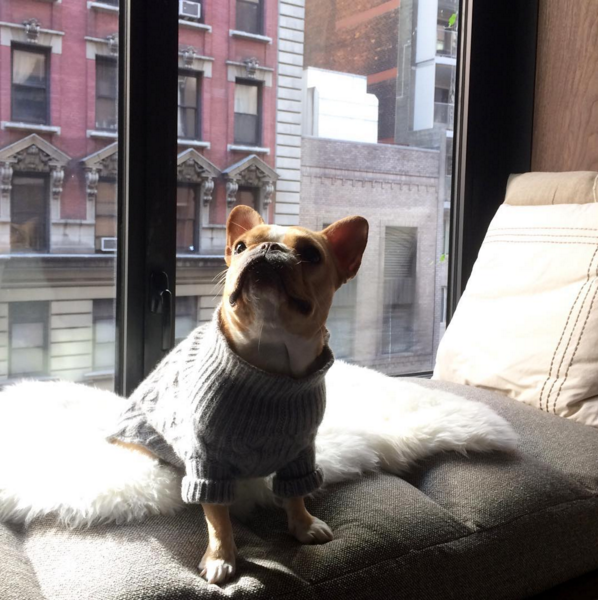 A comfortably installed dog
4/ Buying your dog cupcakes at Bubba Rose Biscuit Company
Your pet deserves a typical American treat. At Bubba Rose Biscuit Company, you will find a large choice of delicious cupcakes. For Zadig, I would choose this 6-cupcakes box "Blue Punk Rock Skull". They are made with all-natural ingredients, organic and gluten free. Ideal for sensitive dogs like mine. The cakes are made from carrots, honey and peanut butter, a little cinnamon and a touch of vanilla. Yummy! They are ideal for medium and large dog, and can be easily cut for small dogs.
WHERE? 236 Myrtle Avenue Boonton Township, NJ 07005 États-Unis
CONTACT: +1-862-209-4677
The delicious cupcakes from Bubba Rose Biscuit Company
5/ Discover the banks of the Hudson River
New York with a dog, it means less visits to museums but more walks in the city parks. And New York has a bunch of them! The Hudson River Park of New York will be perfect for a walk with your dog. This park is quieter than Central Park, mostly because it's less full of tourists.
The dogs in the park must be leashed but there are four dog parks in the Hudson River Park: one in Chambers Street in Tribeca, one in the Village at Leroy Street, one at the corner of 22nd and 11th Avenue and the last on Pier 84 on 44th Street. Dogs can run freely without a leash.
Knowing that in Paris we have only one dog park, let's just say that we should follow the example of New York!
A cozy place for dogs (picture from this website)
6/ Relax at New York Dog Spa
Once the ride is complete, it's time to take a bath! Better than a bath, offer a moment of relaxation in an oasis of sweetness. That is what your furryfriend will enjoy at New York Dog Spa. While your dog is pampered, you can even buy a small gift (another one, yes !). When needed, your dog can stay a night, a week or more in the Hotel part.
WHERE? New York Dog Spa & Hotel, Inc. 32 West 25th Street (btwn. 6th & Broadway) New York, NY 10010
CONTACT: 212.243.1199 ou info@dogspa.com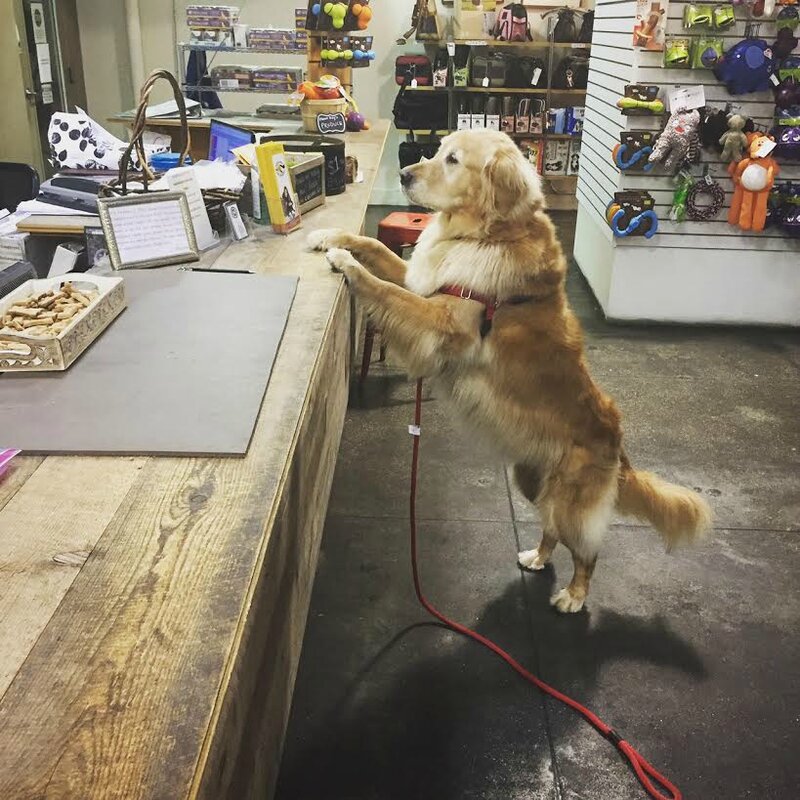 A happy customer of the New York Dog Spa
7/ Sharing a meal with your dog at Shake Shack Burger
My French readers will not believe their eyes. But yes! In the USA, there are major brands who design menus for our canine friends. At Starbuck, your dog will be entitled to his Puppuccino. It is a small mug of delicious whipped cream that you can buy together with your drink. Shake Shack, a famous burger stand chain in the United States, provides a special dog menu available in all Shake Shacks, except stadiums, ballparks, airport and international outposts. Here's what your dog will find :
Le Pooch-ini® : ShackBurger dog biscuits, peanut butter sauce and vanilla custard. Includes dairy, sugar and nut products. Not intended for small dogs... just let 'em have a lick or two!
Bag O' Bones : Doggie bag of 5 ShackBurger dog biscuits made just for us by NYC's Bocce's Bakery.
While you enjoy your burger, your dog will be happy!
PS : Dear Shake Shack, here in France we LOVE burgers. Can't you open one or two Shake Shack?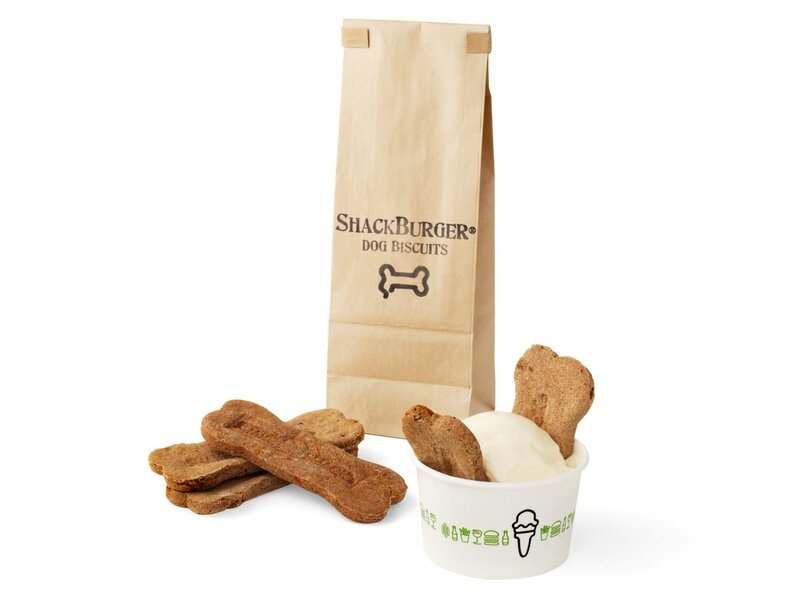 Yummy !
8/ Have a walk in Central Park
What would be a trip to New York City without a walk through Central Park? There is no question that your dog does not benefit also of those 843 hectares of greenery. Even if you must keep your dog on a leash, he can run around, sniff and meet new friends in one of the 23 "dog -friendly" areas. There is even dedicated places, where your dog may be off leash before 9am and after 9pm. In addition, there is over 15 dog fountains in the park. Once again, we could follow this beautiful model in France...
WHERE? Central Park W. 79th Street Transverse Rd New York, NY, US
website |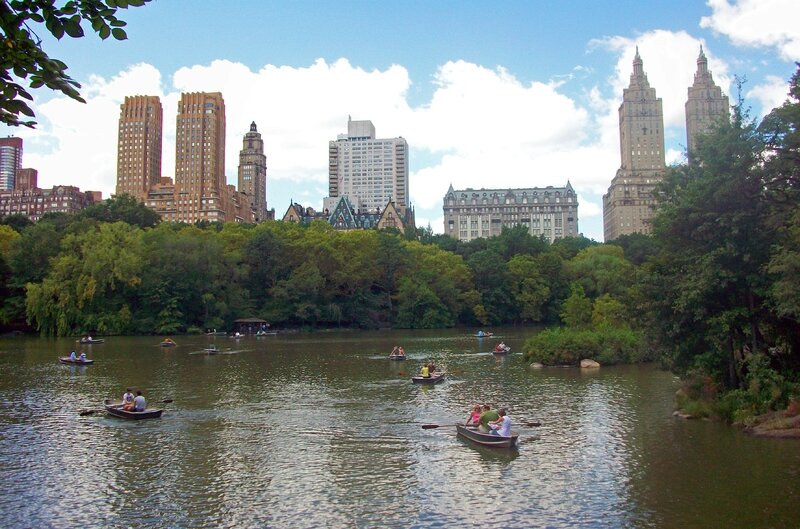 Central Park (pictures from wikipedia)
9/ Enjoy the Brooklyn Bridge
Enjoy the beautiful view of New York City from the Brooklyn Bridge ! With your dog, you can wander along the bridge for about 20-40 minutes each way, depending on your pace. In case of need a break, you will find benches along the way. You must always keep your dog on a leash and be careful with other bystanders (pedestrians and cyclists) but the view is breathtaking .
for more information : read this website
The Brooklyn Bridge and a canine tourist (credits : wikipedia)
10/ Go to the beach in Brooklyn!
Yes! You can go to the beach in New York. You may already know Coney Island? But your dog and you will be happy to discover Prospect Park in Brooklyn. The concrete beach, created by man, was specially designed for dogs. It is located off 9th Street near the bottom of the park. Dogs can be unleashed before 9am and after 9pm in the summer and after 5pm in winter. There is a small pool for dogs, called "Peninsula": a fence forbids the dog to swim to far! It seems that there is also a second swimming area called "Long Meadow Dog Beach at the Pools".
Edit: As I write this post, the "Peninsula" is closed (dogs can not swim because there is a problem with algae from the pond).
for more information : in this website or here - more information on algae : here
WHERE

 

? Prospect Park - Brooklyn New York,



Dogs happy to enjoy their beach (photos from this website)
11/ Give a big hug to your dog
Because it will be the best way to end your stay in New York : give a big hug to your dog and tell him/her how much you love him/her.
If you are interested by Paris, don't miss my post of 10 fun things to do in paris with your dog. Here !
Thanks to the different teams (Canine Styles, Shake Shack Burger, One Hotel Central Park and New York dog spa) for the use of their pictures and to my amazing partner who translated this post.