ADRESSE : Château de Chenonceau 37150 CHENONCEAUX
HORAIRE / OPENING TIME : Le Château est ouvert tous les jours de l'année mais les horaires varient selon la saison. Vérifiez sur le site internet. /The Castle is opened every day of the year but schedules vary according to the season. Please check on the website.

COMMENT Y ALLER ? en voiture

CHIEN / DOG : les chiens sont acceptés. / Dogs are allowed
Bonjour / Welcome
Voici venu la dernière de nos visites des châteaux de la Loire. Nous avons pris le temps de faire un château par jour et je vous conseille de faire pareil. Prenez le temps de bien regarder les détails des décors, les différentes fleurs des parterres et de discuter avec les gens de la région.
Nous avons débuté notre visite par le parc. Je remarque rapidement qu'il est parsemé de "plots canins" avec sacs et poubelle. Il y en a partout. Je dis un très grand BRAVO. Souvent les chiens sont autorisés mais on aide pas les propriétaires à rester propres (oui cela arrive d'oublier ses sacs à caca). A Chenonceau, on a envie de prendre soin de ce parc.
Here is the last one of our visits of the castles of the Loire. We took time to visit a castle a day and I recommend you to do the same thing. Take your time to look at the details of decorations, the various flowers and to discuss with people of the region.

We began our visit with the park. I quickly notice that it's strewned with " canine blocks " with bags and trash can. There are everywhere. I say one very warm CONGRATULATIONS. Often dogs are authorized but there is no help for the owners to remain clean (yes we can forget the bags for the poo !). At Chenonceau, we want to take care of this park.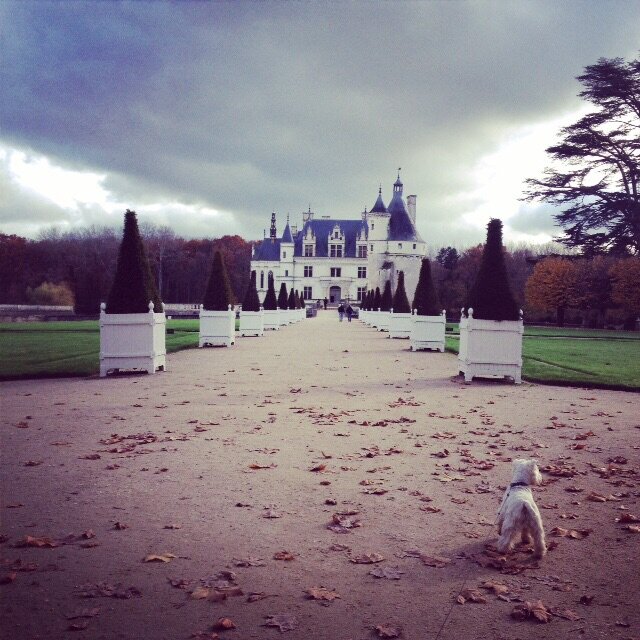 Premier arrêt pour se perdre dans le labyrinthe. Il fait brumeux et Zadig trouve la sortie très facilement. Nous avons ensuite parcouru les jardins de Diane et Catherine. Nous avons même pu discuter avec des jardiniers qui plantaient des pensées. Zadig était très heureux de se balader parmi les 70 hectares du parc.
Les extérieurs sont extraordinaires. Le château-pont est magnifique. Voir ces pierres enjamber le Cher sous un rayon de soleil est juste beau. M. trouvait que le château n'était pas aussi beau que celui d'Amboise mais je suis totalement en désaccord avec cet avis !
First stop to get lost in the labyrinth. It's foggy and Zadig finds the exit very easily. We then traveled(browsed) the gardens of Diane and Catherine. We were even able to discuss with gardeners who planted pansies. Zadig was very happy to have a walk among the 70 hectares of the park.

The outsides are extraordinary. The castle-bridge is magnificent. To see these stones stepping over the Cher under a ray of sunshine is just beautiful. M. found that the castle was not as beautiful as Amboise but I totally disagree with this opinion !
Nous avons ensuite visité les intérieurs du château. Zadig pèse toujours ses 10 kilos et je devais toujours le porter. Nous avons choisi de ne pas prendre les audio guides (disponibles sur IPhone en version adultes et enfant). À ma demande, j'ai eu un mini livret enfant pour les jardins mais je dirais que nous avons plutôt visité le château sans explications.
Dans le château, il y a beaucoup de chambres (chambre de Diane de Poitier, Chambre des Cinq Reines ou encore Chambre de Louise de Lorraine). Elles sont intéressantes et joliement décorées par des compositions florales. M et moi avons eu un gros coup de cœur pour les cuisines, construites dans les piles du pont mais nous avons préféré les pièces du château d'Amboise.
Then, we visited the inside of the castle. Zadig still weighs his 10 kilos and I still had to carry him. We chose not to take tape guide (available on Iphone in version adults and child). At my request, I had a mini notebook child for gardens but I would say that we rather visited the castle without explanations.

In the castle, there are many bedrooms (room of Diane de Poitier, room of Five Queens or room of Louise de Lorraine). They are interesting and decorated by flower arrangements. M and I had a very favorite for the kitchens, built in the piles of the bridge but we preferred the rooms of the castle of Amboise.
Nous avons ensuite découvert le musée de cire qui raconte comment des soldats furent soignés pendant la guerre de 14/18 au château. Ce musée met aussi en scène différents personnages importants du château avec leur costume. A la place du conservateur du château, pour donner un peu de peps aux nombreuses chambres, j'aurais mis quelques personnages costumés comme à Vaux-le-Vicomte.

Then, we discovered the wax museum which tells how soldiers were looked after during the war of 14/18 in the castle. This museum shows various important characters of the castle with their costume. Instead of the curator of the castle, to give a little "boost" to the numerous rooms of the Castle, I would have put some characters dressed up as to Vaux-le-Vicomte.
En quittant le parc, nous avons découvert la ferme du XVIème avec l'atelier du fleuriste qui fabrique les compositions florales du château. Nous avons pu discuter avec les deux personnes travaillant sur ces belles fleurs qui sont, durant l'été, changées deux fois par semaine.
Enfin, nous arrivons à l'enclos des ânes où ceux-ci sont en train de prendre le goûter. Le soigneur nous laisse regarder et nous tombons sous le charme de Tiber l´âne gris. Au fil de la discussion, nous apprenons qu'environs 22 chats vivent sur le domaine, qu'ils sont nourris par le château et que "Noisette" aime bien calmer les chagrins. Le soigneur nous raconte que Madame Meunier (la propriétaire du château) sauve des vieux chiens condamnés à la SPA. Quand il en parle, cela donne envie de connaître cette dame qui aime tant les animaux. D'autant que c'est grâce à Madame Meunier que les chiens sont acceptés sur le domaine.
By leaving the park, we discovered the farm of the XVIth with the workshop of the florist which makes the flower arrangements of the castle. We were able to discuss with two people working on these beautiful flowers which are, during summer, changed twice a week.

Finally, we arrive at the park of the donkeys where these are taking the snack. The trainer lets at us watch and we fall in love with Tiber the grey donkey. In the discussion, we learn that nearly 22 cats live on the domain, that they are fed by the castle and that "Hazelnut" likes to calm the sorrows. The trainer tells us that Madam Meunier (the owner of the castle) saves old dogs sentenced to the SPA (for Society for the Prevention of cruelty to Animals). When he speaks about her, it give me the impression that I would love to meet this woman who really cares about animals. Especially as it is thanks to Madam Meunier that dogs are accepted on the domain.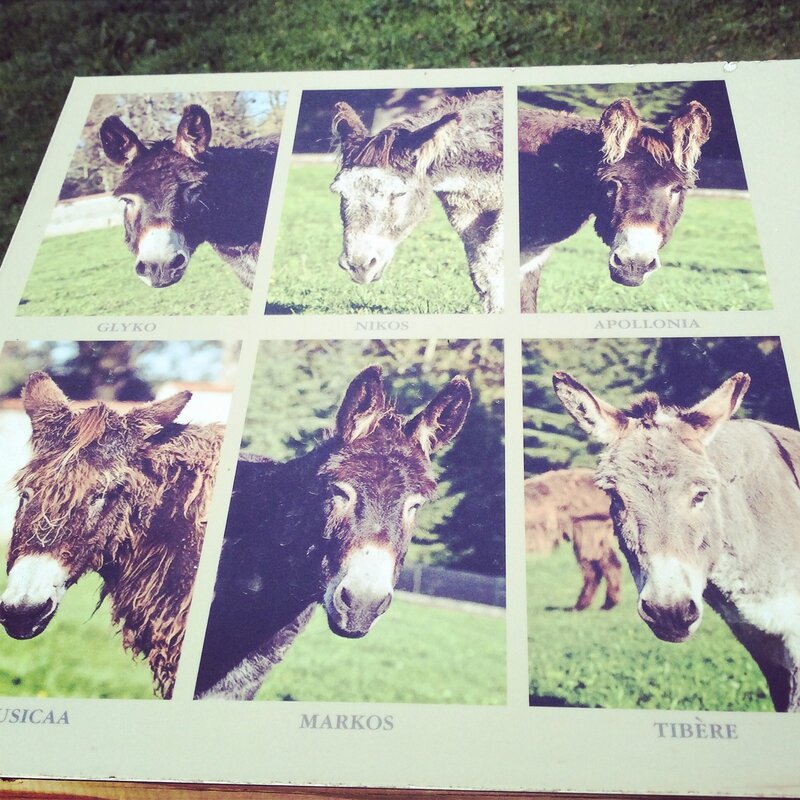 Nous quittons à regret ce beau site. L'ensemble est très agréable mais ce qui m'a le plus plu c'est de voir ces gens travailler et leur gentillesse. De l'entrée du parc à la sortie par la boutique, tout le monde a été extrêmement gentil avec nous. il n'y a pas que les meubles et le château en lui même qui sont à découvrir. Évidemment nous avons eu la chance de visiter à une période très calme et je vous conseille de faire de même.
We leave reluctantly this beautiful site. The place is very pleasant but what most pleased me it is to see these people working and their kindness. Of the entrance of the park to the exit by the shop, everybody was extremely kind with us. There are not only furniture and castle in itself which are to be discovered. Obviously we had the opportunity to visit in a very quiet period and I advise recommend you to do the same.



Je précise que cet article n'est pas sponsorisé même s'il est élogieux sur ce château. Je n'ai pas été invité à Chenonceau, nous avons payé notre billet d'entrée. I specify that this article is not sponsored even if it's laudatory on this castle. I was not invited to Chenonceau, we paid our admission ticket.