During our road trip in the USA, we stopped overnight in Winooski before returning to Canada. We discovered this restaurant thanks to the advice of our host .
Food + drink Waterworks is located in an old Mill, along the Winooski River. Almost all the restaurant tables offer spectacular views of the river and waterfalls. It was dark when we arrived but I am sure that taking a brunch in front of this view must be magical.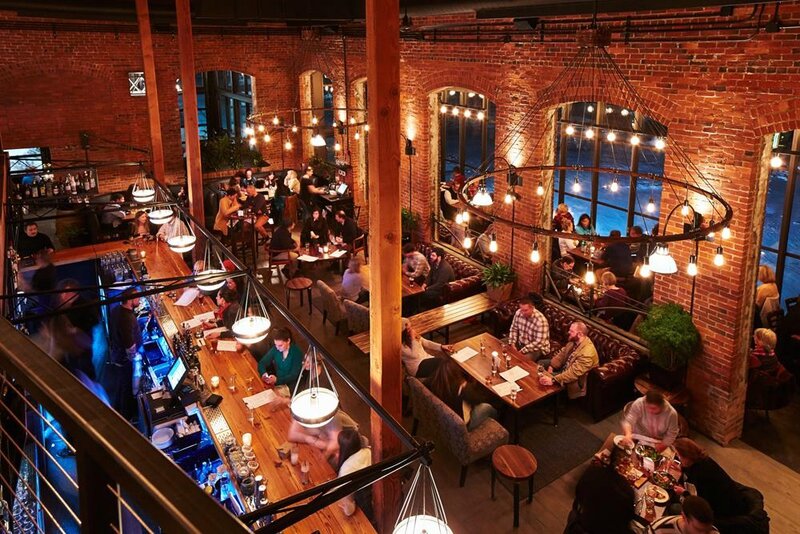 The decoration of the restaurant is beautiful. It's refined yet modern. The quality of this restaurant equals that of some parisian restaurants.The low lighting gives a cozy appearance. Unfortunately all my photos were dark. This explains why I can not illustrate this post with my own photos.
Our waitress, Amy, was kind, attentive to our desires and funny. She even took our picture .

What's in the plate ?
I had a Caesar salad with parmesan and croutons. I had to pay to take the chicken. In France, the chicken is necessarily in this salad. I 'm not used to this lack of "meat" in the Caesar salad. Still, I understand that this will provide the Vegan version of the salad.
My boyfriend took a burger, it was delicious.
And the dogs ?
Dogs are allowed outside.
ADRESS: 20 Winooski Falls Way Winooski, VT
CONTACT: 802-497-3525
Facebook : Waterworks Food + Drink Instagram : waterworksvt
OPENING TIME:
Monday – Thursday: 5:00pm – 10:00pm
Friday: 5:00pm – 11:00pm
Saturday: 10:00am – 2:00pm brunch / 5:00pm – 11:00pm dinner
Sunday: 10:00am – 2:00pm brunch / 5:00pm – 10:00pm dinner
WHERE? by car.

DOG: dogs are allowed outside.