We arrived to Azay-le-Rideau by mistake. We had left for the castle of Villandry but managed to get lost! This change in direction was in fact an excellent idea. I had excluded this castle of our visits because I thought that it did not accept dogs. My mistake was confirm by a phone call to the castle. Dogs are welcome.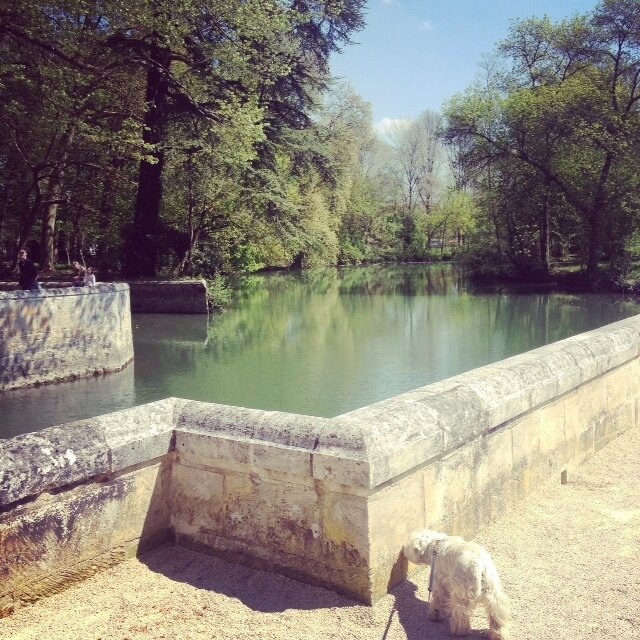 The park
Thus, we discover this attractive castle, built an island in the middle of the Indre river. Beware : Restauration work are in progress outside the castle. It remains open to the visit. A preferential rate is applied. Despite the scaffolds of the works of restoration, the castle is attractive.
The Castle
I entered the castle with Zadig in a bag. My dog always weighs ten kilos so the visit was very fast for me. I met people with their chihuahua who must have pay a longer visit! However, rooms are beautifull.

What I loved the most in this day, was to meet several owners of English dogs. We met the owners of Zouzou, an english dog on holidays in the region. Together, we had a drink in the small coffee shop of the castle and for a long time discussed. I really liked this moment.
We spent an excellent afternoon. I recommend to everybody to discover this peaceful place where dogs are accepted.
ADRESSE : Château d´Azay-le-Rideau 37190 Azay-le-Rideau
CONTACT : 02 47 45 42 04
OPENING TIME : ouvert Tous Les Jours. Octobre À Mars : 10h À 17h15 - Avril, Mai, Juin Et Septembre : 9h30 À 18h - Juillet Et Août : 9h30 À 19h
COMMENT Y ALLER ? en voiture !
DOG : Dogs are admitted in our gardens, kept on a lead throughout the visit. The small-sized dogs are tolerated in the castle on the condition of being in a bag adapted and to stay throughout the visit there.

If you arrived at this article because you are planning a travel with your dog in the Loire Valley, here are other posts that might interest you: Amboise, le Clos Lucé, Chenonceau, Montsoreau, Langeais et Villandry.