ADRESSE : Château du Clos Lucé - Parc Leonardo da Vinci Demeure de Léonard de Vinci 2 rue du Clos Lucé - 37400 Amboise - Val de Loire – France
CONTACT / CONTACT : Tél. : + 33 (0) 2 47 57 00 73 ou http://www.vinci-closluce.com/fr/
HORAIRES / OPENING TIME :
Juillet - Août : 9 à 20 h
-
pour le reste de l'année, renseignez-vous sur le site internet /
July to August 9h to 20h. For the rest of the year, please consult the website.

COMMENT Y ALLER ? en voiture !

CHIENS / DOGS : Les chiens sont autorisés sur le site. Ils doivent être portés dans la demeure et tenus en laisse dans le parc. / Dogs are allowed in the park in leach and in a bag inside the castle.
Bonjour, / Hello
pour notre seconde journée de visite nous avons décidé de découvrir le château du Clos Lucé où Léonard de Vinci termina sa vie.
For our second day of visit we decided to discover the castle of Clos Lucé where Léonard de Vinci died.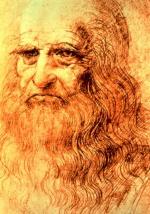 copyrights: Léonard de Serres
Nous avons choisi de commencer la visite dans le sens inverse. C'est à dire en débutant par le parc au lieu du château. L'après-midi était superbe et nous voulions profiter des couleurs d'automne sous ce beau soleil plutôt que nous enfermer dans les salles du château.
We chose to begin the visit in the inverse direction : begin with the park instead of the castle. The afternoon was magnificent and we wanted to take advantage of the autumn colors under this beautiful sun rather than to lock us into the rooms of the castle.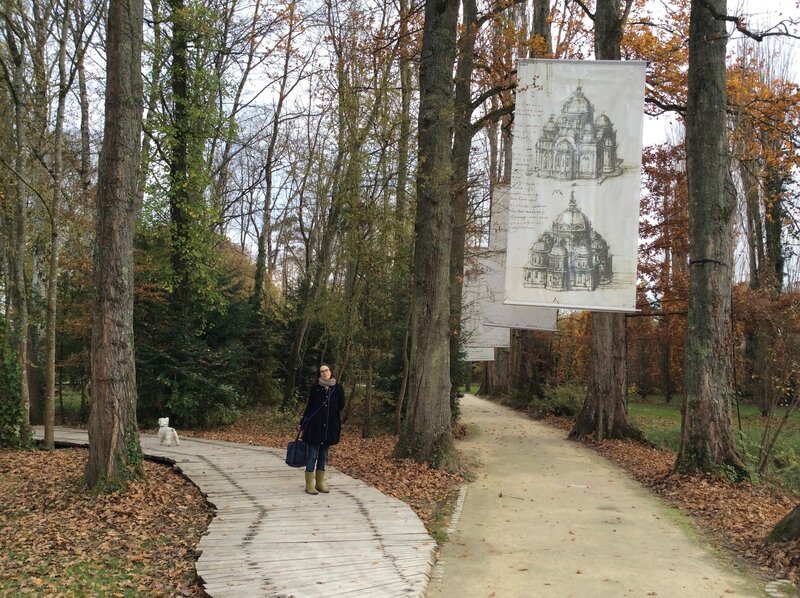 Le parc est fantastique. En voyant le plan distribué, j'avais peur de ne pas avoir le temps de tout regarder mais en fait le parc est à taille parfaite. Il n'est pas immense mais, pour autant, il n'est pas minuscule. Encore une fois, il y avait très peu de monde. Nous avons seulement croisé un groupe de touristes asiatiques qui ont voulu prendre Zadig en photo. Hormis ce groupe, nous étions seules.
The park is fantastic. By seeing the distributed plan, I was afraid of not having time to look at everything but in fact the park is for perfect size. It's not immense but, however, it's not tiny. Once again, there was few people with us. We only met a group of Asian tourists who wanted to take Zadig in photo. Except this group, we were alone.
Les parc est aménagé pour nous faire découvrir des machines imaginées par Léonard. Au grès des allées, nous "rencontrons" le bateau à aubes, le char, le chadouf ou l'hélice volante. Il est possible parfois de tester ces machines qui sont toujours expliquées par un texte.
The park is fitted out to make us discover machines imagined by Léonard. As we follow a path, we "meet" the paddle boat, the tank, the chadouf or the flying helix(propeller). It's possible sometimes to try these machines which are always explained by a text.
copyrights: Léonard de Serres
Ma mère a adoré les explications données par une voix enregistrée que des micros diffusent à certains endroits du parc. Nous avons passé plus d'une heure à nous balader parmi les arbres et les inventions. Nous avons eu un gros coup de cœur pour ce parc et je suis persuadée que des enfants s'amuseraient aussi à le découvrir.
My mom adored the explanations given by a recorded voice which microphones broadcast in certain places of the park. We spent more than one hour to walk among trees and inventions. This park is our favorite and I am persuaded that children would also enjoy discovering it.
Nous avons ensuite découvert le château. Zadig est rentré dans le sac presque sans problème. Le château est sympathique mais comparé à celui d'Amboise, visité la veille, il n'est pas au même niveau. Il m'a paru sans réel intérêt.
We then discovered the castle. Zadig returned into the bag almost with no problem at all. The castle is nice but compared with Amboise, visited the day before, it's not for the same level. It appeared to me without real interest.




Avec cet article se termine le récit de notre séjour le long des châteaux de la Loire. J'espère que mes articles vous aurons donné envie de venir visiter ces beaux lieux. Nous sommes revenus en avril 2015 voir d'autres châteaux.
With this article ends the narrative of our stay along the castles of the Loire. I hope that my articles shall have tempted you to come to visit these beautiful places. We came back in april 2015 to visit another castles.